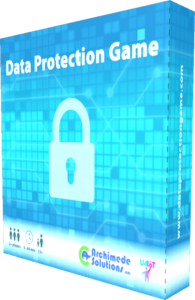 A smart game on data protection and GDPR compliance
In line with Art. 39 of the GDPR, companies must raise awareness and train their employees on data protection rules and obligations. Archimede Solutions developed the Data Protection Game, a serious game on the European General Data Protection Regulation (GDPR) to support the European Large-Scale Pilots (LSP) on the Internet of Things financed by the European Commission (300 municipalities, companies and research centres) encompassing domains such as smart cities, smart agriculture, connected vehicles, wearables and eHealth.
This Data Protection Game aims at raising awareness about privacy and personal data protection regulations. The game will drive you across the subtleties of the GDPR in an entertaining and interactive manner. You can play it alone or with friends and colleagues. Endorse the role of a data Protection Officer or a National Supervisory Authority and demonstrate your knowledge and sagacity. Become a GDPR master!
The Data Protection Game is an ideal tool for Data Protection Officers (DPO) to review their knowledge and to raise awareness among the employees of their company.
More on www.dataprotectiongame.com
Building Trust and Confidence